GREEN BUSINESS OF THE YEAR
We are very humbled to have received the prestigious award of Green Business of the Year at the Newham Chamber of Commerce Business Awards 2019. ADKN has and will always strive to be a pioneer with our green, sustainable and ethical practices, paving the way for a greener future.


---
The only exclusively 100% animal-free, eco-friendly, ethical and sustainable fashion brand made in England, ADKN's story started in 2015, during a friends' conversation, back when animal-free, recycled or eco-friendly alternatives were not words to be often uttered in the same sentence. With so much negative media coverage regarding horrendous practices of fashion manufacturers, fashion was ready to start changing. It had become the second largest polluting industry in the world, it had tortured and killed countless animals and even cost the lives of people engaged in its unethical, unsafe practices. Our founder considered that not only did unethical and unsafe practices and working environment needed to stop, but so did all the pollution and disregard to nature and animals. A goal for a better fashion brand was set, which would slowly contribute to help convert the entire fashion industry into a more conscious and sustainable sector. The story started unfolding in 2017, with ADKN pre-launching beginning of 2019. An acronym for Animal-free Designs and Kindness for Nature, ADKN's primary mission is to deliver premium-quality products, to fight against unethical practices, to not use any animal products, create garments only from sustainable, eco-friendly sources, whilst keeping all business processes green.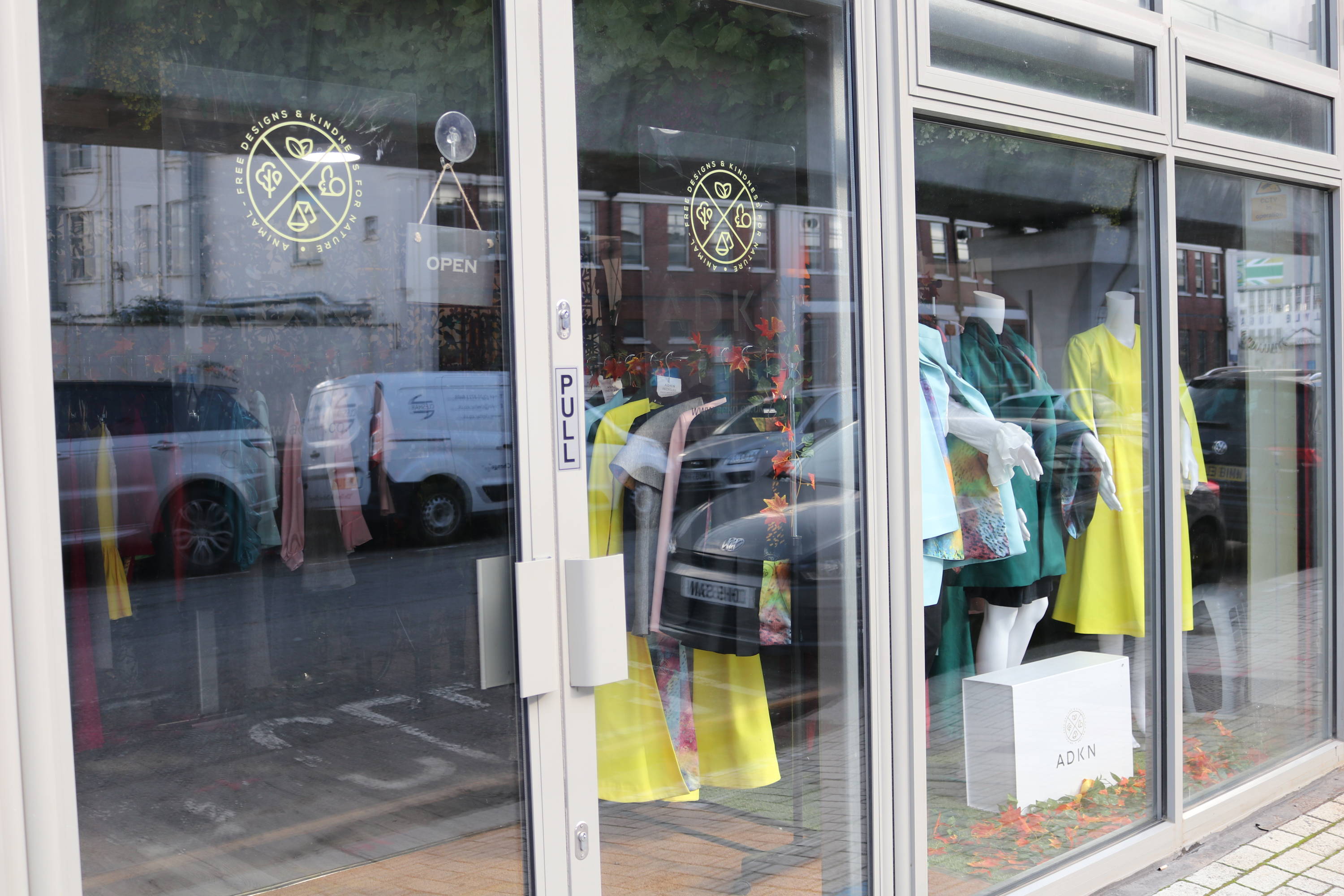 What ADKN Does Differently
---
The fashion industry is the 2nd largest user of water and 2nd largest water polluting industry in the world, after the oil industry. Production of cotton alone adds up 1/4 of the world's pesticide usage, with waters across the world being polluted by dying processes. Also, to produce a single T-shirt, a person's 3-year's worth of water consumption is required.
At ADKN we only use natural, organic, recycled or highly sustainable materials, drastically reducing environmental impact. ADKN only works with certified sustainable and eco-friendly suppliers who source their raw materials locally. All ADKN materials, products and garments (from fabric to zips, to buttons, thread and shipping accessories) are either natural, organic, recycled or biodegradable. Majority of our garments and accessories are manufactured from recycled post-consumer PET bottles fished out from waters of the world.
---
Simply by replacing cotton with organic cotton, we reduce CO2 emissions by 46% and use significantly less water and energy. Bio-based polyamide saves 2,500 litres of water and reduces CO2 emissions by 19Kg per 1,000 meters of fabric compared to normal polyamide. Hemp yields 250% more fibre than normal cotton, whilst requiring 4 times less water. Recycling PET bottles to produce fibres significantly reduces pollution and cleans waters, releases 65% less CO2 and requires 90% less water than normal polyester production processes. We only work with suppliers who use waterless dying and non-chemical production technologies, ensuring no chemical residue is released into the air nor is trapped in the finished material.
It is scientifically proven that organic, natural, sustainable and renewable fabrics last longer than normal fabrics. In the UK, an average of 300,000 tonnes of used clothing end up in landfills every year. ADKN produces garments that are very durable, ensuring they can be worn for significantly longer periods of time. Moreover, majority of our garments are recyclable or biodegradable in their turn.
How is ADKN Staying Green?
---
ADKN established its own green and sustainable studio in London in 2018. We only use 100% renewable energy and green Juki machines, with approximately 60% less electricity consumption. A government report states that UK homes on the average emit 0.283 kg of CO2 per kWh of electricity. Our studio's electricity consumption per year averages 12,000 kWh. Since we use only renewable sources for our electricity supply, we therefore save at least 3.5 tonnes of CO2 from entering the atmosphere. This is equivalent to planting 1,770 trees.
We also engage in a strict recycling and zero-waste policy in our London studio, ensuring every last bit of the materials is used wisely. Traditionally, factories that manufacture garments waste at least 20% of their materials due to poor practices and disregard for the environment. This waste is very rarely recycled and usually ends up in landfills. There will of course be times where it could be difficult to use something 100%, but ADKN will either upcycle or recycled the scrap.
Only Sustainable Materials
By using only highly sustainable, recycled, natural or organic materials from carefully selected certified suppliers, ADKN helps reduce electricity consumption by at least 60%, CO2 footprint by up to 65% and water usage by 90%, whilst avoiding the use of any harmful chemicals and only using carbon-efficient logistics throughout the supply chain.
Our strict zero-waste policy in our London studio follows very strict policies and ensures no leftover materials or accessories end up in landfills. We either upcycle or recycle the scrap to give it new life.
Our London studio is an 100% green working space. And we're not talking just about the leafy decorations. Our studio saves at least 3.5 tonnes of CO2 from entering the atmosphere in year. That's the equivalent to planting 1,770 trees.